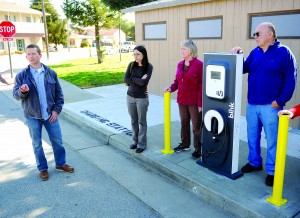 Charged up in San Juan; San Benito gets first electric car charging station
By Kollin Kosmicki
Photograph by Nick Lovejoy
San Juan leaders felt an electrical charge of excitement Friday.
That's because they dedicated the county's first electric charging station for vehicles a day after they activated the machine on Muckelemi Street at the corner of Abbe Park.
The project is a partnership among the Mission City, Association of Monterey Bay Area Governments, the Monterey Bay Regional Air Pollution District and the International Brotherhood of Electrical Workers.
San Juan Bautista City Council members late last year agreed to the idea funded through a $25,000 grant from the air district, distributed through AMBAG. It is one of four electric vehicle charging stations in the three-county air district. The others are in Salinas and Carmel, with another being activated soon in Watsonville.
"Basically, it's going to be serving the region of the air district," said Andy Hartmann with the IBEW Local 234.
Hartmann was in attendance, along with AMBAG planner Anais Schenk and San Juan city officials.
Read the full article at click here.